What Is a General Contractor?
There are many terms in the construction industry that may seem the same, or that could be confusing. One of these is the term general contractor. They are not the same as a subcontractor, though many people may think that the terms are interchangeable! So, what is a general contractor, anyway?
A general contractor, in the construction industry, is the individual who is responsible for overseeing the entire project and making sure that it is completed successfully. Usually, this will be a person who is hired by a property owner to help them complete projects in the home, such as remodelling or renovations. However, this is not always the case, and general contractors may be involved in commercial construction projects as well.
A general contractor is very important for jobs where the coordination of several stages or several different people are required. A general contractor is critical for a design-build construction project.
What Does a General Contractor Do?
You know what a general contractor is, but it is also important to fully understand what it is that a general contractor does. Of course, as we mentioned above, a general contractor is responsible for overseeing a job and making sure that it turns out correctly. In order to do this, the general contractor works as the main point of contact and as a go-between for the owner of the property and the other workers and teams involved with the project.
Part of the general contractor's responsibilities will differ, depending on the delivery method that is used for a particular project. For instance, with a design bid build project, the general contractor only has to manage the project after the design and specs are set by an architect. On the other hand, if a project is a design-build project, the general contractor will need to manage the design of the job as well as the ensuing construction.
Prior to Construction
There are some things that the general contractor must do before a construction project even begins. Depending on the job, they might not have to do all of these tasks, only some. For instance, a general contractor may have to create and then manage the construction budget, hire the subcontractors who will be responsible for completing specialized tasks on the job and collaborate with the architect.
These tasks may also be carried on while the project is underway, too. They will still need to interact with the subcontractors and the architect, for example.
During Construction
Now, during construction, the general contractor will work on some of the tasks that they had been doing before construction began. In addition, there are some other tasks that the general contractor will have to carry out during construction to keep everything running smoothly.
For example, the general contractor will need to keep tabs on multiple tasks that are being done throughout the job to ensure that it is running on schedule. They will also need to work with the team and property owner to account for delays and setbacks and will oversee all of the construction to make sure that it is in accordance with the specifications.
After Construction
Once construction is complete, the general contractor's work is not necessarily done, too! They still have paperwork to complete, such as collecting and tracking lien waivers. Also, the general contractor may need to track payments to ensure that all of the subcontractors are paid for the work that they have done, and may need to further manage payment issues down the payment chain.
This usually falls to them because of their role as the main point of contact between the property owner and the team of subcontractors. On smaller jobs where there is not a team of subcontractors, this may not be necessary.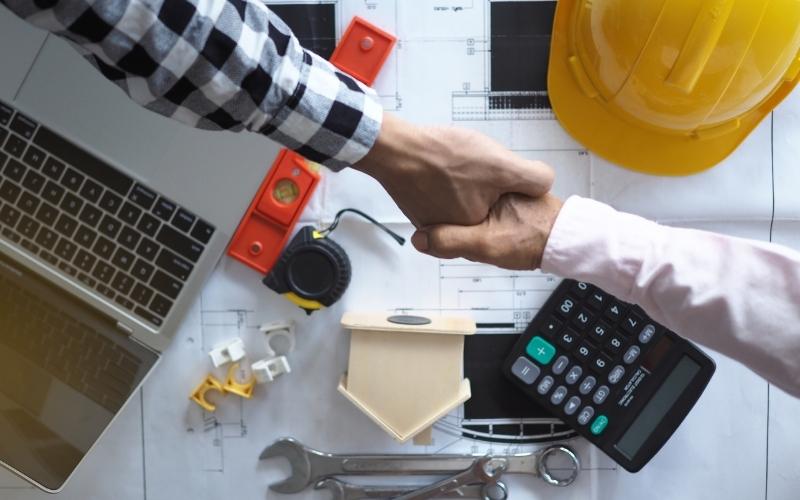 ---
Seko Construction is a Design-Build General Contractor. We focus on the design, permitting, and construction of commercial, industrial, dealership, aviation, recreational, and seniors assisted living developments in Western Canada.
Our goal is to meet with clients who are considering a new building, educate them about the construction process as it applies to their ideas, advise them as to the type of construction that best suits their needs, and establish a price for construction that best serves their resources.
---
Frequently Asked Questions
What does general contractor mean in construction?
In construction, the general contractor is a contractor who is hired by a property owner to help them complete construction work or a renovation project on their house. These projects can range from small to large, such as rewiring a space or remodelling the entire kitchen. The general contractor may be an individual or might be a company of tradespeople who can do the job. Sometimes the general contractor is referred to as the GC, too.
What is the meaning of a general contract?
A general contract, basically, is a written or oral contract between the owner of a home or property and the original contractor who is providing the service. The contractor may provide either service, labour, materials, or some combination of the three for construction on an owner-occupied space.
What defines a general contractor?
A general contractor is, essentially, someone who coordinates and then works to execute the construction of large home projects, such as a bathroom or kitchen renovation. The general contractor enters into the contract with the homeowner and then has the responsibility of overseeing the project and seeing it through successfully. They oversee all construction management on the project.
What is the main difference between a builder and a general contractor?
A general contractor is a person who has their own team of subcontractors, which they manage to help property owners complete various construction projects in the home or job site. A builder, however, usually refers to a custom home builder. This person is someone who has specialized knowledge when it comes to building custom homes. Therefore, they are able to complete a home building project on their own, without outside help or other teams, from start to finish. 
What is the difference between a general contractor and a subcontractor?
When it comes to general contractors, it refers to someone who completes projects for homeowners, such as remodelling or renovations. They usually have their own team of workers that they can hire to complete other home renovations and projects. A subcontractor, on the other hand, is one of those that the general contractor hires to help them complete these jobs by completing specialized tasks– smaller projects that are part of the larger project. This could be a plumber that is hired to come in and rearrange pipes in a bathroom remodel so that the toilet and sink can be moved, for instance.