What Is Design-Build in Construction?
Design-build is a construction method that is rising in popularity– originally, it was an alternative method, coming as another option to the design-bid-build method, but it is now becoming the preference! What makes this construction method different from– and preferable to– other construction processes out there? Read on below for a deep dive into what design-build is and how it works. 
What Is Design Build Construction?
Design build refers to a type of project delivery methods on a construction project. Design build has a unique structure, where it unites everyone involved under a shared goal– the success of the project in its entirety, not just their individual slice of the cake. This is because design build has one team working under a single contract, handling both design and construction– rather than splitting the two up. Design build stands out because the team is organized differently, and information flows better through the project's stakeholders.
Some of the key benefits of this method are that it fosters communication and collaboration, as well as reduces the risk and burden that is put on the owner of the project. Generally, the owner has a specific person on the job who is set as their point of contact– through this person, all information regarding updates, delays, and more is relayed. This point of contact is also the one who initiates the necessary contracts with the architects, engineers, and other contractors, and enters into these contracts on the owner's behalf. This can help to promote shorter schedules and lower project costs, too. The design builder contact is the one who handles most of the administrative tasks, risk management, and potential legal issues, rather than the project owner. 
This increased efficiency leads to less risk for the project owner and frees up a lot of their valuable time. Tasks such as paperwork, document management for submittal, and being the "middleman" between involved parties are all off of the owner's plate. These are also tasks that take up a lot of time, but do not necessarily have a huge effect on the construction projects, so it means that the owner's time is open to focus on tasks that are more important. This does not erode the owner's control of the project– rather, the design build process simply makes it easier to delegate these sorts of jobs. 
Design Build Team
The design build team does have a structure that is unique to this particular construction process. Not all teams will be set up the same way– in fact, for construction processes that require more than one contract, teams may be larger or more segmented, and communication does not flow as well as within a design build team.
With most construction methods, the project owner might have several points of contact throughout the duration of the project. However, with design build, the owner only has one person who will be their point of contact. That person is akin to a manager, from a flowchart perspective. This person is a representative of the design build firm. This person, and the firm itself, must work to represent the best interests of the owner while on the job, and must also be able to work collaboratively with all of the other parties or contractors that are involved. Typically, the design build firm is responsible for hiring, coordinating things, and holding the contracts with other firms– plus, they are responsible for dealing with issues when and if they arise.
This team structure and setup does not mean that the design build firm gets to go off on their own and do whatever they want, though! The owner still remains in full control of the project. The design build team is simply advocating for the owner and also being their eyes and ears. They guide the owner and act on their behalf, in addition to assuming much of the risk and burden that would have otherwise fallen on the owner. 
Steps of the Design Build Process
When it comes to the process of design build, there are five key steps that are part of every design build project. These happen in a, sequential order, but certain steps may also overlap during the design build process. This usually happens when the steps in question influence each other's outcomes, like with project design and project planning. Whether or not this happens will vary with each project and with its specific requirements and details. These five steps are as follows: team selection, project planning, design, GMP/bidding, and construction. We go into greater detail below.
Team Selection
This is the first step in the design build process. This is where, as the name implies, the project owner will choose the firms that they want their design build team to consist of. This includes people like the engineers, designers, architects, or builders. The owner may choose to select one firm that will then choose the remaining members of the design build team, or the owner may play a more active role in the selection of each firm that will be contributing to the design build team.
All of these individuals or firms will then assemble the design build team and will band together contractually. They have a shared goal and stake in the successful completion of the project– rather than only having a stake in their own area of expertise. This added accountability can help to motivate them to collaborate and work together throughout the entire process.
Project Planning
After step one is complete and the design build team is fully assembled, they will get started on actually planning the project. They will go through the planning process by trying to match the owner's vision and project goals with the project budget. This is when the team is able to determine what is feasible and what is not– or when they begin to evaluate what can be done in order to eliminate costs and come in under budget in order to achieve more. Important items such as preliminary sketches, cost analyses, and schedules will be drawn up, and the design build team will also analyze the site and look for any potential challenges that they will need to prepare for and plan to deal with.
Design
Next comes the project design phase! This does start during the project planning step, technically, as that is when the preliminary drawings for the project are usually done. Then, once these preliminary drawings are done, the architect will double down on the design process and complete the final drawings for the proposed project.
When it comes to the other construction methods, there is usually only the input of the architect at the design step. However, with design build construction, the project owner will usually benefit from the feedback of the architect, builders, and specialty contractors at this stage– since they are all involved in the design process! This will also produce more accurate drawings and reduce the risk of changes and constructibility issues down the road, once construction begins on the project.
Establishing a GMP
For those who may not know what this is, a GMP is an acronym for guaranteed maximum price. It is important to establish this before the project construction begins so that an owner can understand how much to expect to be paying for the work involved. Establishing a GMP often involves different subcontractor bids before the builder has a final cost for the project.
With design build construction, the work is not competitively bid. However, this does not mean that the project will cost more because the owner has fewer options. The design build firm will handle this process and make sure that they are getting high quality bids from reliable subcontractors, so they can advocate for both the best price and the best work for the project owner. The GMP will also back the project's cost and ensure that it will not exceed that agreed upon price. If, for whatever reason, cost does end up exceeding the GMP, it is the responsibility of the design firm to pay the extra, rather than the owner.
Construction
The final step– and often the lengthiest, too– is the actual construction of the project. Due to the level of collaboration that is required right off the bat with design build construction, the construction itself should be able to proceed fairly smoothly. There are less questions and miscommunications that may pop up, as everyone was involved in the project from the start. Design build has been seen to help reduce– and in many cases, eliminate– the need for change orders, and can also help to keep costs in line with the agreed upon budget.
Should I Choose Design Build Construction?
Design build construction has many benefits, but of course, there are some risks involved, too. Generally, it can benefit projects of many different sizes and budgets, and its unique setup helps to avoid and minimize any potential issues down the road– because, if done right, design build construction ensures that everyone involved is on the same page. Of course, there are instances where design build might not be the best method for you, so be sure to weigh all pros and cons before coming to any final decision. Below, we discuss some of design build's advantages and its risks.
Advantages of a Design Build Contract
Design build contracts do have a wealth of advantages, some of which we have touched upon previously. These include saving the owner valuable time, which can then be devoted to other more important tasks, as well as reducing the risk that the project owner has to take on. For instance, the owner would not be liable for design errors in the case of any issues, since they were not a part of the design team that worked on the project. Change orders are something that design build helps to cut back on, too, since the architect and contractor are able to work hand in hand. There are some benefits to having everyone on the same team! Some other advantages are below:
Simplified construction drawings
Owner can receive final design and costs for a fraction of what a traditional plan spec tender would cost
Ability to customize the design to the site conditions
Faster schedules
Comparison of Contractual Relationships – Traditional Project Delivery VS Design Build Project Delivery
Traditional Project Delivery
Owner must manage two separate contracts on same project

Owner becomes the middleman – settles disputes between design and contractor

Designer and contractor can easily blame one another for going over budget or project mistakes
Design Build Project Delivery
Owner manages only one contract with a single point of responsibility

Designer and contractor are on the same team providing recommendations

Changes are addressed by the design build team, they manage all subcontractors
Risks of a Design Build Contract
Some of the risks of a design build contract include the potential for loss of control in regards to the owner. We did discuss above how many facets of the design build process do not require an owner to cede control, but it can certainly be a concern when deciding on a contract style. Usually, with other types of contracts, the owner can hire a separate architect and contractor, and the architect can act as a private consultant of sorts, ensuring the project meets expectations and is up to par, quality wise. With design build, though, the architect and contractor work for the same company and are on the same team.
This may require the owner to be more hands-on with the design-build team to guarantee the required. Some other risks are below:
If not scheduled correctly, there could be delays as in any other type of delivery
An integrated design cannot be used with this contract
---
Looking for a Design Build Construction Company?
Seko Construction is a Western Canadian general contracting construction company specializing in design and construction services. We are active in the commercial, light and heavy industrial, energy, institutional, aviation and airspace, large seniors housing complexes, and civil construction sectors.
We bring the complete project team and construction team to your development and building needs with our selected partners:
Land Acquisition: Our network of commercial and industrial realtors will present land options based on location, services, and cost;
Project Financing: Our network of financing companies will meet with you and examine various financing strategies based on your needs;
Architects and Engineers: Based on your specific requirements we work with selected professionals to ensure quality, functionality, and budget address your needs.
We are your design build project team that will be there for your entire project.
---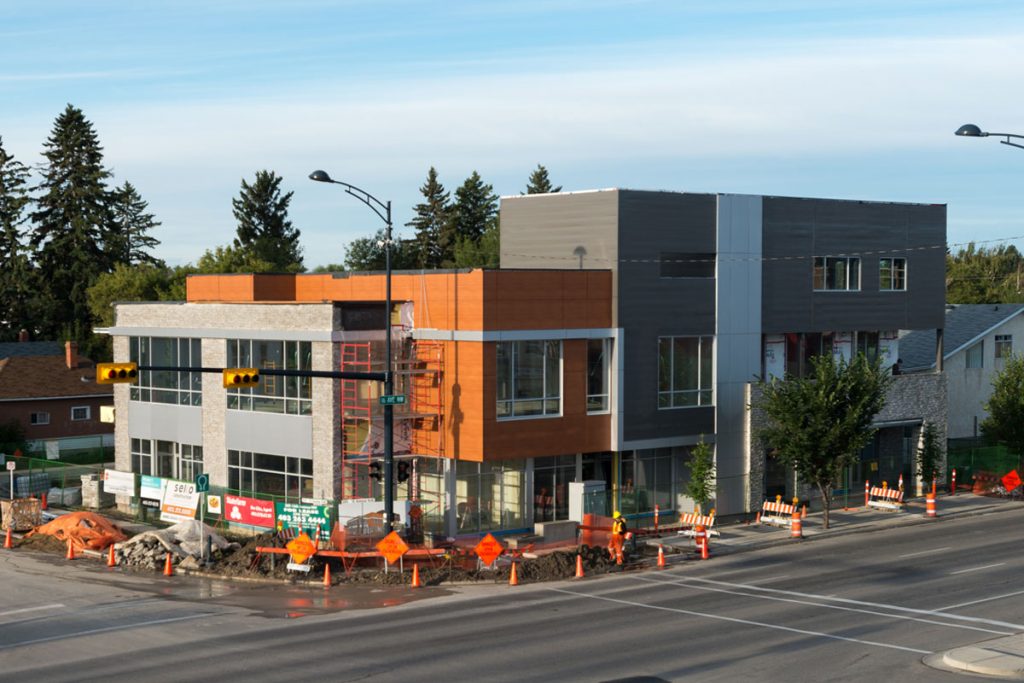 Frequently Asked Questions
What does design mean in construction?
In the construction industry, design refers to the process of creating a solution to a project brief. It is the plan for the construction of an object– or a structure.
What is the design and build process?
There are a few different steps in the design and build process. These happen in a particular order– team selection, project planning, design, GMP/bidding, and then the final stage of construction. Sometimes some of the processes overlap, such as design and project planning, for instance.
What is design/build arrangement?
Design/build is a process or arrangement in which one team works under a single contract with the business owner. This contract covers both design and construction services, rather than having separate contracts– or separate companies– to handle each of the two processes. This helps to provide a more unified workflow from concept to project completion.